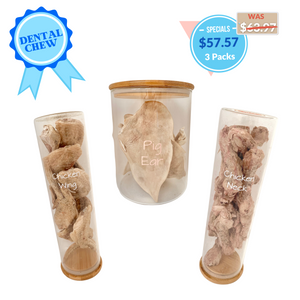 Dental Chew Combo - Freezy Paws Human Grade Freeze-Dried Raw Treats (Chicken Wing + Jumbo Pig Ear + Chicken Neck)
Regular price
$57.57
Sale price
$63.97
Unit price
per
Tax included.
Shipping
calculated at checkout.
Freezy Paws Superpremium Human Grade Freeze-dried Raw Treats - Dental Chew Combo (Chicken Neck 100g, Chicken Wing 100g & Pig Ear x 3)
Nutritional Benefits 
Our all-natural Chicken Drumette & Wings are naturally rich in calcium and phosphorous, protecting your pet's joint and bone health. They also offer the best fatty acid content of all animal bones, promoting healthy skin and coat. These crunchy treats are a natural toothbrush for your dog, making those furry kisses much more enjoyable! 
Our all-natural chicken necks provide a chew and crunch your pet will love! With an approximate 65% meat and 35% bone ratio, these necks are ideal for dogs and cats of any breed or size. Chicken necks will naturally clean your pet's teeth. They are loaded with healthy calcium, our chicken necks help keep your pet's teeth and bones, while chondroitin, glucosamine, and omega-3 help improve joint function and reduce inflammation. These meaty bones are the perfect anytime chew.
Our chicken hearts are loaded with essential nutrients such as protein, Vitamin A, B6, and B12, as well as iron and niacin. These healthy vitamins and minerals help improve cardiovascular, vision, immune and digestive function.
100% Human Grade
Only 1 ingredient, responsibly sourced. 
Freeze-dried retains nutrients and the natural flavour of raw meat
High-protein, all-natural treat 
Bite-sized for easy eating and portion control
Great for reward training and as a nutritional boost to any pet's diet
Naturally hypoallergenic and gentle on the stomach
No preservatives, no fillers, and no artificial flavours/colours
Grain-free, gluten-free, soy-free, corn-free, and guilt-free!
Made in Australia, in small batches. 
Reward your pets and satisfy their cravings for real raw meat with our artisan, Freeze-dried, Chicken Treats! 
Perfect as an everyday treat, reward for training, or add them to your pet's bowl for a 'rawsome' nutritional boost. Our single-ingredient meat treats promote overall health and vitality and will certainly make your pet's tail wag with joy.
Our freeze-dried raw meat treats have never been cooked or processed in any form whatsoever. The superior freeze-dried method preserves food naturally, so there are no added chemicals or preservatives that are found in common pet foods and treats.
Even better, all the natural vitamins, minerals, nutrients, and the great taste of real, raw meat remain the same.
Only the best treats. Because they are paw-family!
Package Size: 
1 x 100 g Chicken Wing
1 x 100 g Chicken Neck
3 Count Jumbo Pig Ears
Ideal for dogs and cats of all size/breed/age
---
Share this Product
---
Customer Reviews
03/17/2023
Pamela B.

Australia
Happy Doggy
Purchased the Freezy Paws products for our very fussy Border Collie and she loves freeze dried chicken necks, wings and pigs ears. The fact that there are no additives is what attracted me to these products. Our girl has a sensitive stomach and has not had any adverse effects from chewing on these products. Very happy to purchase again as the quality is excellent.