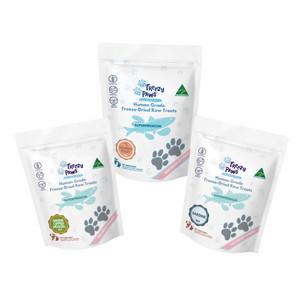 Seafood Combo - Superpremium Human Grade Freeze-Dried Raw Treats (Salmon Fillet, Green Lipped Mussels & Sardine)
Regular price
$50.37
Sale price
$55.97
Unit price
per
Tax included.
Shipping
calculated at checkout.
Seafood Combo - Superpremium Human Grade Freeze-Dried Raw Treats  (Salmon Fillet, Green Lipped Mussel & Sardine)
Nutritional Benefits 
Salmon is regarded to be the nutritious food that could prevent the chances of cancer and heart attacks. It has a high content of Omega-3 along with minerals and vitamins. It contains vitamins such as Vitamin A, Vitamin D and Vitamin B and minerals such as calcium, zinc and iron. It also helps strengthens cardiac muscles. The presence of amino acids helps to repair the damage of cardiovascular tissues. It lowers blood pressure, cholesterol and prevents the hardening of walls of arteries. It also lowers the chances of heart problem. Elderly dogs, and those suffering from arthritis, may greatly benefit as well. Salmon can reduce inflammation and joint stiffness. For developing puppies, Salmon has DHA to improve for early brain development.
Our wild-caught whole sardine is a special treat! Ideal for all pets including those with allergies or special diets. Sardine is the perfect addition to weight management and a heart-healthy diet. Loaded with omega-3 fatty acids and high in important vitamins and minerals. Omega-3 helps reduce joint pain, improve your pet's organ function, boosts immunity, and keeps the coat and skin healthy. Nutrients like calcium and Vitamin D helps build and protect healthy bones and teeth. The Phosphorus and Vitamin B found in our Sardine help convert food into energy. It's no wonder why our whole Sardine for dogs and cats is so popular among pets and pet parents!
Our Human Grade New Zealand Green-lipped mussel is beneficial for all pet life stages from puppies and kittens up to seniors! It offers natural arthritis relief without the nasty side effects of pet arthritismedicine! To relieve dog hip dysplasia and feline joint pain. All-natural green-lipped mussel is sourced from the cleanest waters of New Zealand. It is an excellent source of naturally occurring glucosamine and chondroitin as well as a rich source of omega fatty acids, antioxidants, enzymes, vitamins, minerals, fibre, and many more nutrients!
100% Human Grade
Only 1 ingredient, responsibly sourced. 
Freeze-dried retains nutrients and the natural flavour of raw meat
High-protein, all-natural treat 
Bite-sized for easy eating and portion control
Great for reward training and as a nutritional boost to any pet's diet
Naturally hypoallergenic and gentle on the stomach
No preservatives, no fillers, and no artificial flavours/colours
Grain-free, gluten-free, soy-free, corn-free, and guilt-free!
Made in Australia, in small batches. 
Reward your pets and satisfy their cravings for real raw meat with our artisan, Freeze-dried seafoods!
Perfect as an everyday treat, reward for training, or add them to your pet's bowl for a 'rawsome' nutritional boost. Our single-ingredient meat treats promote overall health and vitality and will certainly make your pet's tail wag with joy.
Our freeze-dried raw meat treats have never been cooked or processed in any form whatsoever. The superior freeze-dried method preserves food naturally, so there are no added chemicals or preservatives that are found in common pet foods and treats.
Even better, all the natural vitamins, minerals, nutrients, and the great taste of real, raw meat remain the same.
Only the best treats. Because they are paw-family!
Package Size: 
Salmon Fillet 80g, Green Lipped Mussels 50g & Sardine 80g

Ideal for dogs and cats of all size/breed/age
---
Share this Product
---
Customer Reviews
12/02/2023
Fiona H.

Australia
Seafood Combo
My dog LOVES Freezy Paw treats! She almost starts to salivate when she sees the packet. The seafood combo is as good as the meat. I will happily recommend this product!