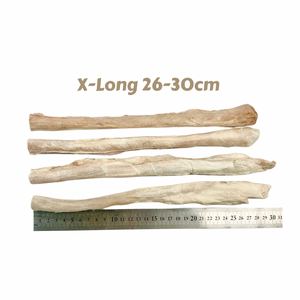 Freezy Paws Superpremium Freeze-Dried Beef Bully Stick individual pack (Australian Made) EXTRA LONG
Regular price
$14.99
Sale price
$15.99
Unit price
per
Tax included.
Shipping
calculated at checkout.
Freezy Paws Superpremium Human Grade Freeze-dried Bully Stick Raw Treats Extra Long
Australian First Freeze-Dried Bully Stick
Nutritional Benefits 
Our Superpremium Bully Stick is nutrient-rich and super healthy. Your dog or cat will love the long lasting chewy texture and hearty beef taste!
Aside from being made from a single, all natural ingredient, bully sticks are full of other health benefits. They are very high in protein and low in fat, making them a suitable choice for your pet trying to lose weight. Because they're low fat, you can offer them more often without worrying about adding excess fat to your pet's diet. Beef is also an excellent source of amino acids, magnesium and calcium to promote your pet's skin, coat, muscle and brain health. Bully sticks are much less likely to cause a blockage like rawhide because of their digestibility and they don't splinter or break into chunks.
Bully sticks are an excellent way to promote dental health in pets. Since periodontal disease is increasingly common in our canine companions, combating it can be difficult. Although they won't replace regular dental cleanings by your veterinarian, the chewing and gnawing required to work through a bully stick scrapes off plaque and tartar before it sticks to your pet's teeth.
100% Natural Beef Pizzle
Only 1 ingredient, responsibly sourced. 
Freeze-dried retains nutrients and the natural flavour of raw meat
High-protein, low in fat
Long lasting chewy texture 
Great for dental health 
Naturally hypoallergenic and gentle on the stomach
No preservatives, no fillers, and no artificial flavours/colours
Grain-free, gluten-free, soy-free, corn-free, and guilt-free!
Made in Australia, in small batches. 
Reward your pets and satisfy their cravings for real raw meat with our artisan, Freeze-dried, Raw Beef Treats! 
Perfect as an everyday treat, reward for training, or add them to your pet's bowl for a 'rawsome' nutritional boost. Our single-ingredient meat treats promote overall health and vitality and will certainly make your pet's tail wag with joy.
Our freeze-dried raw meat treats have never been cooked or processed in any form whatsoever. The superior freeze-dried method preserves food naturally, so there are no added chemicals or preservatives that are found in common pet foods and treats.
Even better, all the natural vitamins, minerals, nutrients, and the great taste of real, raw meat remain the same.
Only the best treats. Because they are paw-family!
Package Size: 
Australian or New Zealand Grown Beef Pizzle
5 different sizes available (Small, Medium, Long , X-Long & XX-Long)
Ideal for dogs and also for cats of all size/breed/age
Please note, these products are naturally formed and therefore the size and shape of the product may vary by a couple of mm.
---
Share this Product
---